Posted August 13, 2019 at 11:58 am
Hi everyone! We're going to be at Flamecon this coming weekend, August 17-18! You can find us at PUB 27 and PUB 28 on the show floor. We'll be bringing lots of stuff like books, stickers, originals and more, including some new items. Come say hello!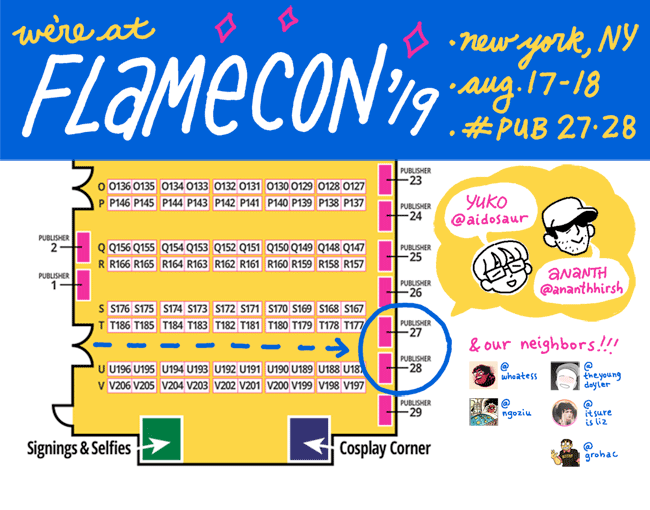 In addition, we've updated our convention schedule! You can check the sidebar on the right for more information. After Flamecon, we've got SPX and NYCC, so if we don't see you this weekend we'll hopefully catch you at the other two!
===============================
BECOME A LATE BACKER OF WANDER HERE
WANDER is coming along! We got proofs in and they're looking good. Now we're running the Pledgemanager to collect everyone's addresses. If you MISSED the Kickstarter, you can become a late backer on Pledgemanager and still get some of the Kickstarter exclusives! Check it out!
============
The Johnny Wander store is now OPEN! We've partnered with DFTBA (Don't Forget to be Awesome)! One of the perks of this partnership is that shipping is now cheaper, based on weight, and we have better pricing on international shipping as well!
To celebrate the relaunch, we've marked several items down for a limited time! Check it out!
=========
Thank you SO MUCH for a very successful kickstarter! You'll be hearing news about progress as we get it in!
========
BARBAROUS won the Reuben Silver Award for in the category of online comic – long form! We're so thrilled! Thank you to the National Cartoonists Society and NCSFest! You can check out all the winners here. And you can read Barbarous from the beginning here!