Posted April 6, 2021 at 12:54 pm
Hi everyone! We're back with another update!
Here's a peek at Percy, from the next season of BARBAROUS! This is a summer look for her. The shorts are tiger-striped, and Yuko paired it with sneakers with a color-matched detail. Red is a key color for her in this story arc, so you can expect reds in her looks overall.
Yuko's currently thumbnailing the first chapter of Season 2! Clip Studio Paint has added an interesting dimension to our process, so we've been exploring that quite a lot. It's a big shift for Yuko-- both of us have been Photoshop users since we started working in comics.
So what happens in the meantime? April's side story begins next week, and features Percy and Lumia, and will be drawn by Kat Fajardo with assists from Pablo Castro. We love both of their work, and are really excited to be collaborating with them. Definitely check them out!
If you'd like to pick up printed editions of BARBAROUS, Lucky Penny, Our Cats Are More Famous than Us, or any of Yuko's art books, you can find them in our online store! As always, your support makes Johnny Wander comics possible. We also have stuff like plush, stickers, charms and more - check it out!
If you missed the sidestories, you can read them here:
Ada's House of Discount Glamours, drawn by @patabot

Taller and More Mysterious, drawn by @arlir

Wisdom of the Dead, drawn by @magnoliapearl

R&R Cooking Vlog, drawn by @krismukai
Cacophony Harpend & The Door to Calamity, drawn by @_ggdg_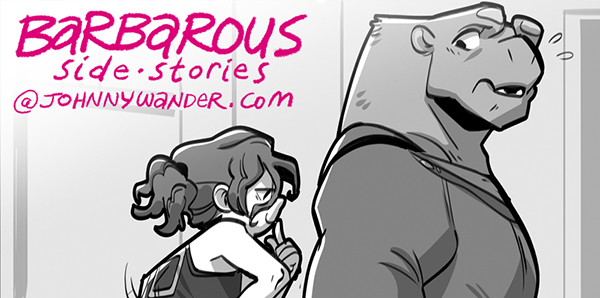 Alterations, drawn by Niki Foley
And of course, now's the perfect time to get caught up on Barbarous! You can read all of Season 1 for free by following the links below:

Read from the beginning of Chapter 5 here.
Support us: