Ananth
What does it mean? Gotta be honest - at first I thought, in the way that sponsors get stadiums named after them, that there was maybe a town sponsored by Dairy Queen that they named after their new offering, the Cheesequake™. Not the case, at all. Cheesequake, NJ is a real place! Maybe some of you are from there. The part we drove through was lovely. It didn't live up to the wonder of its name, but maybe that's okay. I don't know if anything could.
We'll be at Kitsunekon in Appleton, WI from February 25th-27th! We don't usually make it out to that neck of the woods, so hopefully we'll be meeting a bunch of new faces. Come say hi! We'll bring books and more.
I talked last week about Yuko's body type lineup - we got a lot of folks asking after Death, so Yuko went ahead and did it: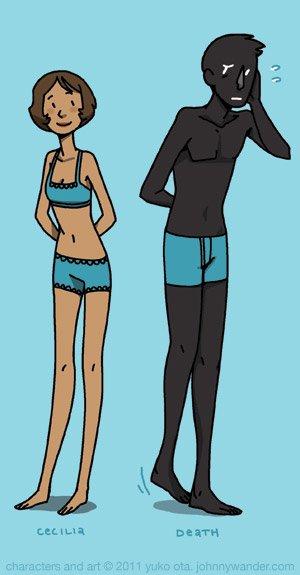 Pretty cute!
See you Thursday!