Hey everyone!
We just got in our advance copies of Offhand along with something else we're really excited to share with you -

HMMM… a MYSTERIOUS BOOK...

It's an oversized, limited run of Barbarous Chapter 1!

We gave backers of the Offhand campaign and folks on Patreon early access to this info, but if you're just learning now, the deal is this - if you support Offhand, even through late backing, you get 5$ off the LTD printing of Barbarous Chapter 1. Otherwise we'll have it at shows (Including ECCC!) and online later this year for full retail price.
If you want to pick it up you have three choices -
Buy one from us at ECCC (it will be 5$ more than if you support Offhand now!)

Catch us at a show or order it online full price from our shop later this year!
That's everything for now! Thank you so much for your support!
============
We recently added the Double Werewolf tank and tee to the store! It's based on the tanktop in the previous comic... Yuko decided to put it together for kicks and the result was cool so we added it to the store!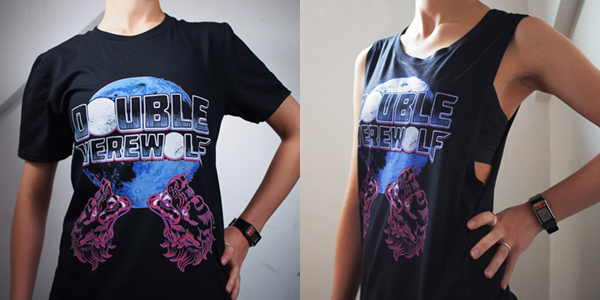 As always, thanks for your support!