Ananth
We got a new humidifier and it's totally a penguin that barfs mist. It's meant to be for kids (there's a whole line of different animals), but this is also a well-priced ultrasonic humidifier, which means a minimum of cleaning and noise. I guess I accidentally turned this into a commercial, but anyway - I recommend it if you need one. Moving on!
Inkmation is a company specializing in children's storybooks for the iPad. They're interactive, and you can read through them with your kids or the app will read the story out loud. Yuko and I are doing some work with them in the next year, and I'm happy to say they've released their first digital storybook: The Tortoise and the Hare! Check it out! I got to look in on the development process and it's helping us plan ours - we'll post more about that as it comes.
Yuko worked on Twisted Journeys 17: Detective Frankenstein for Graphic Universe/Lerner Publishing a little while ago, and it's hitting shelves and online stores soon (some versions are already available)!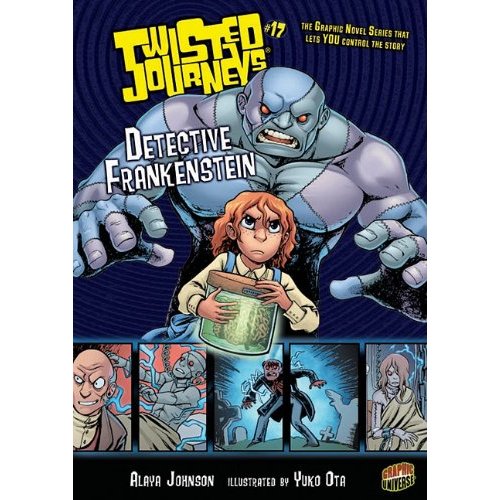 The Twisted Journeys series is essentially a comics Choose Your Own Adventure. Here's the description of Detective Frankenstein,
Mystery is afoot in London. Thieves roam the graveyards, your best friend is missing, and your creepy boss is building something in his lab. A famous detective is on your side. But does he have secrets of his own? Every TWISTED JOURNEYS® graphic novel lets YOU control the action by choosing which path to follow. Which twists and turns will your journey take?
Yuko learned a lot while illustrating this book! Graphic Universe largely specializes in kid-friendly stuff, so if you're looking to get a little brother or sister into comics, these might be a fun place to start. Here's a look at the interior (photo care of John Kelly):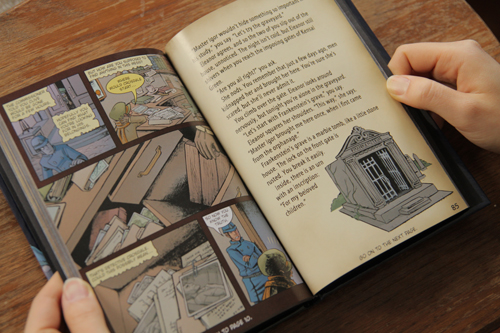 I always loved that shot of the desk in the middle panel.
That's it for us! See you next week!