Ananth
Hey guys! Here's page 3 - that Basilisk has certainly taken a shine to Delilah!
Oh! The PaleontoLOLgy tees are in the store right now!! And we also got totes! They all glow in the dark and look so so good! We're so thrilled with how the print came out: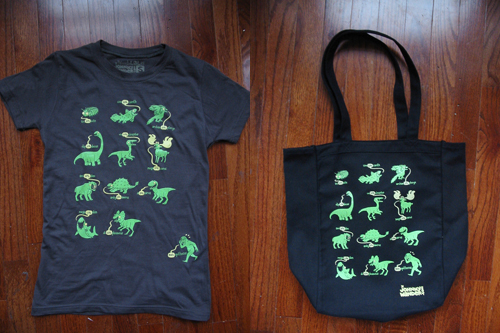 The photos we have up now don't quite do them justice. We're waiting till John has a moment to do proper store images, but we figured it would be dumb to make you guys wait. Oh, also to note: we've created a special Prints Holiday Gift Pack that contains all 3 prints, a Cat Fight bookmark, and 3 stickers for a discounted price.
Also, I should mention that the webcomics holiday fundraiser is selling postcards. We did a card for the collection last year - you can take a look over at the site.
See you guys Thursday!