Ananth
GAAAAAH
GUYS
GALS
LOOK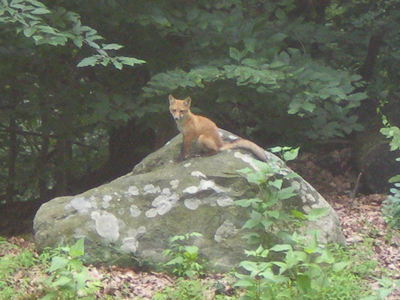 Yuko's Mom has been sending her photos of the foxes in the backyard for the past couple of weeks! There used to be two foxes, presumably a male and a female ... because now there are three kits! Well, they're adolescents now. They amble into the backyard during any time of day and just kind of roll around and play in the grass, by themselves and with each other. One of them took a nap! Yuko and I were working in the basement, but we kept wandering upstairs with the hope that we'd catch a glimpse ... lucky us, they were there all day! They hang around the remains of the old storm drain ... At one point the elder fox dragged the remains of a bird out of the woods so the young'ns could play. This also was cute, if slightly macabre.
Yuko won't let me keep one as a pet ): YUKO YOU ARE A HARSH MISTRESS D:
OKAY BACK TO OUTPOST FOXWATCH ALPHA
Oh, and Zoolology preorders end Friday at midnight! Get 'em in while you can!