Hey everyone! I'm Conrad, that unfortunate looking dude you see directly above and below this post. I'm responsible for making sure stuff runs smoothly around here, but I'll occasionally be jumping in here to bother you all by saying something inappropriate. 
Want to know the best way to get your extended family to call you? Link your mom to a comic you're in. Just a thought.
Oh, also, I'd like to introduce you to the RSS feeds! I've set up three feeds: one for blogs, one for comics, and one aggregate feed. Having just took the crash course in RSS, I presume things will go swimmingly, but if they don't shoot me an email and I'll get right on fixing it.
That said, if there's anything you'd like to see added, fixed, moved (or if you're just bored or lonely) please feel free to drop me a line at support.johnny.wander@gmail.com! As anyone can tell you I'm notoriously terrible with replying to emails, but I take this gig pretty seriously; if something's broken, you better know I'll get right on fixing it. ;)
--
Yuko and I attended Conrad's graduation, and in keeping with the way Conrad does business, he made it pretty entertaining. Conrad stepped onto that stage to Walk and, as if he knew that he was at the center of attention up on the gigantic jumbotron hanging from the ceiling, gave a grinning double thumbs up to all five hundred people in the audience. Then he lit an imaginary cigarette, gave a long pull, and blew four years worth of college up at the gymnasium ceiling. All five hundred people laughed. 
Oh yeah, and that photo? 100% real: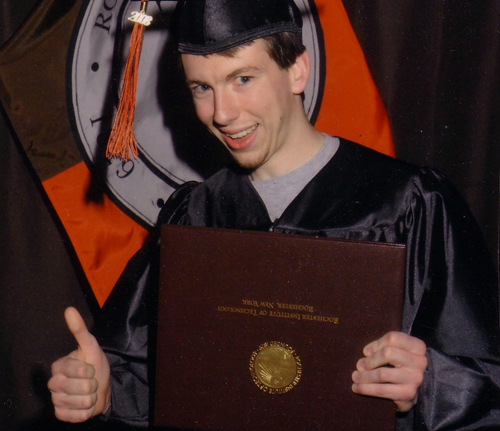 Conrad is also the fellow who programmed this site together for us, so a BIG thank you to him! This wouldn't have happened without him, and he's been super accommodating with all the nitpicking I've done on the design. Conrad's an ace programmer, so if you're looking for a web developer, drop him a line! 
Also, thank you to George for providing us with hosting! Thanks buddy.