Ananth
This Valentine's Day, let John say what's in your heart. These cards are ready to print out so you can give them to that special someone on February 14th! They'll really remember this V-day ... no matter how hard they try to forget.
♥ ♥ ♥ CLICK HERE FOR A HIGH RES VERSION ♥ ♥ ♥
You guys! Conrad's been working at Muse Games for a few months now, and his latest project is Creavures, a gorgeous sidescrolling platformer where you use the abilities of each creature to solve puzzles. They actually have a Kickstarter going, and it's already over the top, but you can still donate! Def take a look!
I mentioned that we're getting in some Cat-Chimera charms to the store soon - here's another: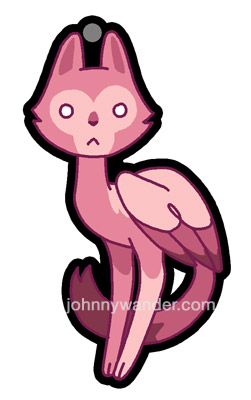 A catmingo! Oh man.
Beginning next week we'll be posting Pony Cop! Some of you may remember it from last year. We wanted to share it with you guys, as we weren't able to meet demand. More on Tuesday! Have a happy Valentine's Day.