Posted January 25, 2022 at 12:09 pm
These updates will be going up in the run up to Chapter 7! We're hard at work on Chapter 7, and the first thing that happens after scripting is creating references for the various characters in major scenes. This chapter has quite a lot! 
Here's PIXELS OF YOU on a list over on Bookshop.org! Check it out!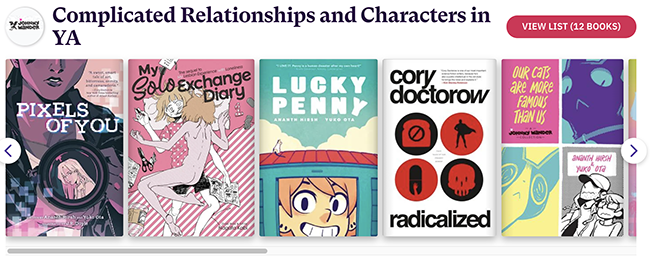 And here's a quote from the Publisher's Weekly review:
You can watch the PIXELS OF YOU book trailer below! PIXELS comes out on Feb 8th, 2022-- you can  preorder it at the retailer of your choice!

The trailer was edited by Shannon Strucci. 
PIXELS OF YOU is written by Ananth Hirsh, Yuko Ota and drawn by J.R. Doyle! Thanks for your support!
Read the 16-page PIXELS OF YOU preview here:
Again, you can preorder it on the landing page from the retailer or bookseller of your choice. Thank you SO much for reading! Happy holidays!

>>   PREORDER HERE   <<
Pixels of You was written by Ananth Hirsh & Yuko Ota, and drawn by J.R. Doyle.
Support us: