Posted July 13, 2021 at 12:24 pm
Hey guys! Season 2 is coming, so we put together a Season 1 recap in anticipation. Next week we'll share the cover of the next chapter, and the following week Season 2 will begin!
BARBAROUS returns for Season 2 on July 27th! Look forward to it!
---
PIXELS OF YOU is written by Ananth Hirsh and Yuko Ota, illustrated by J.R. Doyle, and published by Amulet!
Preorder PIXELS OF YOU today at this link!
We are REALLY excited to finally talk about Pixels of You! This book was co-written by Yuko and myself, and drawn by J.R. Doyle, of Knights Errant fame. Collaborating with them was a dream, and we're psyched that this book is finally coming out on November 9th, 2021!


Pixels of You is about Indira and Fawn, two rival photographers in a near future society where AI is ubiquitous in both grounded and fantastic ways. Here's the back cover copy:
"The idea of you is intimidating."
"Does the unknown intimidate you?"
In a near future, augmentation and AI changes everything and nothing. Indira is a human who had to be cybernetically augmented after a tragic accident. Though she struggles with pain and the strange nightmares haunting her, she lives a mostly normal life, interning and showing her work at a local gallery. Fawn is a human-presenting AI who has to grapple with both her family's expectations and how the world perceives AI. Though she works at the gallery with Indira, neither girl thinks much of the other's photography. But after a huge public blowout, their mentor gives them an ultimatum: work together on a project or leave her gallery forever. Grudgingly, the two begin to collaborate, and slowly, their rivalry turns into a friendship—and then to something more. And as Indira and Fawn learn to navigate each other and the world around them, they find a connection they could have never expected.
Thanks so much for reading!

========
NI69 hats are now available for preorder in the store!
NICE! The design is done in puff embroidery, so it has a raised texture and is really clear and crisp! We've been trying to get this made for a couple of years and we're excited to finally make it happen. Note: this is a PREORDER, meaning shipments won't be going out until the end of May.
This design was originally seen on a pin, which you can also pick up in the store. Thank you so much for the folks at DFTBA for helping us make this happen. Check it out:
===============
THE NEXT BARBAROUS SIDE STORY IS DRAWN BY KAT FAJARDO & PABLO A. CASTRO!
The next Barbarous side story was written by us and drawn by Kat Fajardo & Pablo A. Castro!
'Bring a Kid to Work Day' is about Percy and Lumia! Lumia was first introduced back in chapter 3! We're really excited to have worked with Kat and Pablo on this. Check them out! Kat Fajardo (twitter / instagram) & Pablo A. Castro (twitter / instagram).
The comic was also lettered by our long-time collaborator, Tess Stone (twitter / website)! He's lettering all of the short stories, a million thank-yous Tess!
If you'd like to pick up printed editions of BARBAROUS, Lucky Penny, Our Cats Are More Famous than Us, or any of Yuko's art books, you can find them in our online store! As always, your support makes Johnny Wander comics possible. We also have stuff like plush, stickers, charms and more - check it out!
If you missed the sidestories, you can read them here:
Ada's House of Discount Glamours, drawn by @patabot

Taller and More Mysterious, drawn by @arlir

Wisdom of the Dead, drawn by @magnoliapearl

R&R Cooking Vlog, drawn by @krismukai
Cacophony Harpend & The Door to Calamity, drawn by @_ggdg_


Alterations, drawn by Niki Foley
Bring a Kid to Work Day, drawn by Kat Fajardo & Pablo A. Castro!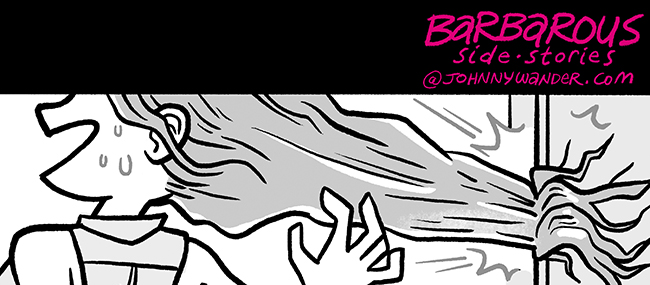 And of course, now's the perfect time to get caught up on Barbarous! You can read all of Season 1 for free by following the links below:

Read from the beginning of Chapter 5 here.
Support us: